The final night of Tin Pan South saw us return once more to Analog at the Hutton Hotel for two remarkable rounds on Saturday.
The early show proved to be historic in that, to most anyone's memory, it was the first Tin Pan round ever to be fully composed of LGBTQ musicians/writers.  Featuring Shelly Fairchild, Ty Herndon, Brandon Stansell, Harper Grae, and a plethora of musicians, this was a lineup to be reckoned with on multiple levels.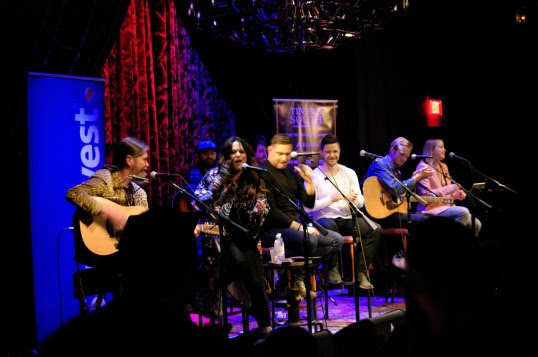 Powehouses all, it's hard to narrow down to highlights.  Shelly Fairchild impressed with her "Kiss Me" and "Damn Good Lover."  Ty Herndon introduced a rewritten "What Mattered Most" (which will be released as an upcoming single) and left me in tears with "Heart Half Empty" (duet with Shelly Fairchild).  Brandon Stansell's heartbreaking "Hometown" and "Never Know" are both worth your time.  His voice is something new and very needed in country.  Harper Grae's "Monster" couldn't be more on target for the moment in which we live and the hilariously naughty "Friends" showed her incredible versatility.
After a reset of the house, it was time to make like Miss Buttercup and wrap this thing up with the final concert of the week.  Featuring Madi Diaz, Wrabel, Jamie Floyd, and Mark D. Sanders, this show was like the finale of the fireworks on the 4th of July: relentless, astonishing, and full of oohs and aahs.
The legendary Mark D. Sanders kicked off with his smash hit for Jo Dee Messina, "Heads Carolina, Tails California" and never let up from there, continuing later with the story behind his George Strait track, "Blue Clear Sky" and wrapping the night with Lee Ann Womack's multi-platinum "I Hope You Dance."
Madi Diaz's new work on "Crying in Public" and "Resentment" are certainly ones to keep your eyes on as they're released.  Wrabel continued the hit-parade with his stellar "11 Blocks," the huge Backstreet Boys song "Don't Go Breaking My Heart," Kesha's "Woman" (which, by the way, cannot be performed at the Bluebird Cafe due to a word that rhymes with "feather-plucker"), and an upcoming duet with P!nk, "90 Days."
Full-disclosure:  Eric and I are friends with Jamie Floyd, so my joy in her work might go a bit beyond that which is professionally kosher.  Now, with that said, I need to stress that Jamie Floyd is as real as talent gets in this town.  She recently competed on the USA Network's Real Country and has the street cred in Nashville of writing hits and waiting for her own big break.  Returning to my earlier fireworks analogy, Floyd is a rocket waiting for takeoff.  Her "What I See in Me" details the heartbreak of waiting for success in Nashville.  "The Blade," which she performed on the competition, is a song in search of a movie if ever there was one.
With Tin Pan South's completion, now we begin the wait to see what song will be cut by which artist and become the "It" track of 2019.  The week was filled with hits already lauded with chart success and awards and contained more than a few songs that you'll be singing at a pool party someday, dancing to at a wedding, or crying along with in the aftermath of heartbreak.
Such is the virtue of music.  We find ourselves in the words and melodies.  We define moments, places, and people with these simple three-minute dramas.  More than one artist last week brought up the oft-quoted line that country music is three chords and the truth.
And the truth is this: Nashville continues to make dreams and break hearts every single day.  While the dreams may have outnumbered the tears this week, the singers and songwriters behind Tin Pan South will continue to fill in the broken corners of our hearts, provide the backdrop for that first kiss, and bring a smile to our face with the happy memories their songs are sure to make.